15 celebrities describe what it's like to have ADHD as an adult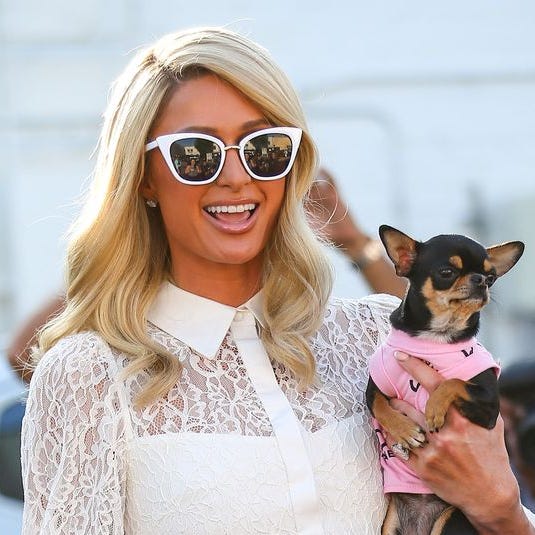 Bellocqimages/Bauer-GriffinGetty Images
ADHD, despite being most commonly diagnosed in children, is a behavioural disorder that often lasts into adulthood. Many of the most high-profile celebrities we know, like Solange Knowles, Adam Levine and Simone Biles, have ADHD – and it clearly hasn't stopped them from succeeding. ADHD, also known as ADD, stands for Attention Deficit Hyperactivity Disorder and it can cause impulsivity, difficulty maintaining focus and an overactive mind. Symptoms can range from mild to severe, and from hearing what celebrities who have ADHD say about the condition, not everyone's experiences are the same.
Paris Hilton is someone who's been living with ADHD from a young age, just like Maroon 5's Adam Levine, and as they've grown older, it's got easier to manage. Spice Girl Mel B says that exercise helps clear her mind, while crafting is something that New Girl actress Zooey Deschanel uses to keep her focussed.
It's not a condition that's always easy to spot, even for the person themselves, and often it can go undiagnosed until adulthood. That was the case for British reality stars like Tanya Bardsley and Olivia Attwood who described the relief at being able to explain their past behaviour. Speaking about it publicly can only help to raise awareness for other people who are (or don't yet know they are) living with ADHD.
Here's what celebrities say about their diagnosis and symptoms, as well as their personal hacks for managing ADHD on a daily basis.
Advertisement – Continue Reading Below
1
Solange Knowles
When Solange was first told that she had ADHD in 2008, she demanded a second opinion.
"I was diagnosed with ADHD twice," she told BET. "I didn't believe the first doctor who told me and I had a whole theory that ADHD was just something they invented to make you pay for medicine, but then the second doctor told me I had it. I guess I was in denial. I don't understand exactly what it is. »
2
Paris Hilton
Paris Hilton's ADHD diagnosis came at an early age. The socialite and businesswoman has been taking medication called Adderall (a drug used to stimulate the central nervous system) since she was 12 but says living with the condition was toughest when she spent 23 days in prison for a driving violation back in 2007.
In a Larry King interview following her release, she said: "[I have] attention deficit disorder so it's hard to pay attention to things."
Paris – who has built a multi-billion-dollar business empire – says she "learned to deal with" her ADHD during her incarceration but it's never affected her professionally, in television, singing or other ventures. "I'm doing fine everywhere," she told him.
3
Michelle Rodriguez
Most famous for her badass character Letty Ortiz in Fast and Furious, Michelle Rodriguez has found it difficult to progress from acting to directing because of her lack of focus.
Speaking about her experience of ADHD with Cosmopolitan for Latinas back in 2013, she said: "I want to write and direct but it's not easy with ADHD. I have a hard time focusing when I'm alone."
However, the 43-year-old is still conflicted about treating the condition: "I'm a scatterbrain," she added. "But I'm nervous of taking medication. I don't really want to depend on anything to control my brain."
4
Victoria Pedretti
One of the greatest challenges You actress Victoria Pedretti has found about living with ADHD is the label.
Being told at "six or seven years old" was "damaging," the actress recently reflected in a chat with Glamour magazine. "I have ADD, severe ADD, whatever that means. It affects the way I live, the way I think, the way I process information – or don't process information.
« But it was so damaging to me at that age because it didn't do anything for how I defined myself. It only allowed other people to make assumptions and feel like they had the answers to something far more complex than ADD.
"People with ADD are very different. I remember going to an ADD support group [and] being like, 'I don't like these people,' and why should I?"
The diagnosis certainly hasn't held back Carnegie Mellon School of Drama graduate Victoria who's landed major parts like Love Quinn in You and Dani in The Haunting of Bly Manor.
5
Mel B
Spice Girl Mel B has become a master at managing the symptoms of ADHD, previously saying that exercising is one of the best ways to keep her mind focussed and clear.
Talking to Paul McKenna for his Positivity Podcast, Mel said: "[Working] out for me is for my mind, because I do have ADHD, dyslexia… I mean, the list goes on and on. I find working out helps me meditate, it helps me get rid of a bit of my anxiety and it helps me focus on me just for that 45 minutes or for that 1 hour."
6
Olivia Attwood
Former Love Island star Olivia Attwood didn't know you could have ADHD as an adult.
Olivia told a Loose Women panel in June that it was a 'stroke of luck' she got the diagnosis from a psychiatrist who specialised in ADHD. She has 'combined' ADHD, where you have six or more symptoms of each category: inattention and hyperactivity-impulsivity. When it was unmanaged, during her 20s, she says that it caused "a lot of stress" for everyone around her.
Opening up about the revelation on ITVBe show Olivia Attwood Meets Her Match, the 30-year-old said: "Pre-Love Island, I just kind of hit this point where everything came to a head. My anxiety was through the roof, I was fluctuating in and out of mild depression, and I had to actually get some help for it."
On seeing a specialist, she continued: "When I was with [the doctor] for a couple of hours she was like, 'Have you ever been diagnosed with ADHD?' and I was like, 'Yeah, as a child, but you can't have it as an adult, can you?'
« And she was like, 'You absolutely can. I think not being aware of your ADHD tendencies has led you to be really hyperactive and then you're dealing with anxiety and that's brought on depression'. It's like a big chicken and egg situation. »
7
Georgia Harrison
As a teenager, Love Island star Georgia Harrison was labelled a "troublemaker" and even thrown out of private school before she knew she had ADHD.
Speaking to OK! Magazine about her experience, Georgia said: "I found it hard to concentrate, I was getting in trouble for being too loud, speaking when I shouldn't, interrupting people: I had all of the symptoms."
Instead of being given help to manage the symptoms, Georgia says ADHD wasn't spoken about enough when she was in school.
« Back then," she continued, "The people who had ADHD were always treated like they were different, and put in different sets and stuff rather than being helped."
8
Simone Biles
Until 2016, Simone Biles had never spoken publicly about having ADHD. But the US gymnast tweeted about her diagnosis when her private medical records were publicised by a group of Russian hackers, revealing that she had a « medical exemption" to use one of the World Anti-Doping Agency's banned substances.
In a statement on Twitter, Simone wrote: "I have ADHD and I have taken medicine for it since I was a kid. Please know, I believe in clean sport, have always followed the rules, and will continue to do so as fair play is critical to sport and is very important to me."
The 32-times Olympic medal and World Championship winner, who's 24 now, went on to say that she did not feel afraid to speak about it, adding: "Having ADHD, and taking medicine for it is nothing to be ashamed of."
9
Adam Levine
Three-time Grammy-Award-winning artist Adam Levine says ADHD still sometimes affects his songwriting and recording – even though you'd never know from his back catalogue of hits. After experiencing ADHD symptoms at school, Adam was surprised to learn that the condition was still strong as an adult.
Writing for ADDitude magazine in 2019, the Maroon 5 singer said: "I had trouble sometimes writing songs and recording in the studio. I couldn't always focus and complete everything I had to. I remember being in the studio once and having 30 ideas in my head, but I couldn't document any of them. »
He continued: "If you were diagnosed with ADHD as a kid, you might still have it now. ADHD isn't a bad thing, and you shouldn't feel different from those without ADHD. Remember that you are not alone. There are others going through the same thing."
10
Erin O'Connor
British model Erin O'Connor was in her 40s before she was told she had ADHD. Now 43, the mum-of-two says that certain parts of her life suddenly make a lot more sense thanks to the diagnosis.
She told Stella magazine earlier this year: "I've discovered that I have ADHD, which is new. In retrospect, it's very helpful to be able to piece it together and understand certain things in my personality and growing up. I'm actually currently resitting my maths GCSE.
« It just means a lot to me personally, now that I understand how my brain wants to function and store information. I've been able to understand how I can become a more straightforward learner. »
11
Zooey Deschanel
Not many people know that New Girl actress Zooey Deschanel is living with ADHD. She's kept her experiences largely to herself but recently hinted that crafting is one thing that keeps her focussed.
In a 2011 blogpost for HelloGiggles, Zooey wrote: « Are you an unmedicated adult with Attention Deficit Disorder who also LOVES to do crafts? I am! I barely have the patience to write this opening paragraph (I have already gotten up four times), so I need to focus my unfocused mind on projects that can be completed very quickly… I recognize I will never complete something that takes any kind of patience (sorry needlepoint) so I decided to focus this blog on crafts I CAN complete. »
12
Justin Timberlake
Former NSYNC singer Justin Timberlake confirmed that he had ADHD in a 2008 interview with Collider. Giving a rare – and extremely brief – insight into his experience of the neurological condition, JT quipped: « I have OCD mixed with ADD, you try living with that. »
13
SZA
For SZA, living with ADHD has not been easy – in fact, it's been "f**king difficult," she says.
"It's a little embarrassing," the musician told i-D magazine four years ago. "Especially when I'm nervous, my mind is running a mile a minute. My ADHD speaks for me before I can speak for me.
« If I'm in public and people walk up to me – because I've never been famous before – I've probably lost something by the time everyone has left me. I'm easily disorientated. But I'm getting a hold on that. »
It took a while for the 32-year-old to accept her diagnosis but she's finally learning to stop changing herself for others.
In an interview with Cosmopolitan US, she admitted: "I didn't want to have ADHD. I wanted to be a normal person. And I think that craving and the editing of myself hindered me, so I just stopped editing. And that was all.
"The embarrassment of being me still stands and exists all the time, every moment, but it's also learning the acceptance part and also being down to see where me takes me is the part that set me free."
14
Tanya Bardsley
Like many people with ADHD, reality star Tanya Bardsley says her diagnosis felt « like a big weight had been lifted off her shoulders".
"[It was] like finally, I know what's wrong with me and I can find out the tools that can help me," she said in a chat with Andrew Kitley for the podcast, The Invisible Gift. She went on: « You'll find out that most entrepreneurs have ADHD because we've got, like, 17 TVs going on in our head whereas someone without it has just got one on. So we're just like right to the next thing, to the next thing, to the next thing. »
The revelation coincided with her decision to quit The Real Housewives of Cheshire this November after six years while she works out the appropriate level of medication to take for the condition.
She recently warned others against taking advice from internets forums after experiencing heart palpitations and even a seizure after trying out new ADHD drugs.
She wrote on Instagram: "WARNING – I've been doing a lot of research on everything about ADHD for a special project – I have tried 3 different medications for ADHD and I stopped taking the 3rd ones after I had heart palpitations and a seizure, so I've been back fully ADHD and my focus and been terrible these past few weeks."
15
Dave Grohl
Foo Fighters musician Dave Grohl, 52, says his education was impeded by a « raging case of ADD » saying he tried his best to maintain focus during classes but eventually left school before the age of 17. He made the revelation during a YouTube monologue called In Defense of Our Teachers, admitting that he still has regrets about dropping out to pursue his dreams of being a musician.
During a recent Rolling Stone interview he also reflected on school report cards that hinted at his ADHD from a young age: « It was abysmal from first grade, » he confessed. « And they said the same thing my entire life. 'Dave has potential, if only he could sit down and focus and stop trying to entertain the fucking class'."
This content is created and maintained by a third party, and imported onto this page to help users provide their email addresses. You may be able to find more information about this and similar content at piano.io
Advertisement – Continue Reading Below