Professional Darts Charts Future With Fallon Sherrock in Covid-Free World
The first thing I saw as I walked up to the Motorpoint Arena in Nottingham, England, was an angry old man having his packet of Sainsbury's Butter Mintoes confiscated by security. The first thing I heard was a woman shouting, "Oh, f— off, Lucy." It was February 2020. Inside were Waldos and Oompa-Loompas and jungle explorers and pageant queens and lederhosen guys and old-timey jockeys. There were hula hoop lads and men in full-body orange safety cones and a few dudes who looked like they maybe saw a movie about Hawaii once and have always wanted to go. There was a young woman dressed as an old woman of the lives-in-a-shoe variety, who fully committed to the bit by clutching her back and shuffling every time she went to get a pint. All that's required to fit in at a darts tournament, really, is to dress up as … anything.
What was very important was the drinking. Darts is a surprisingly good spectator sport because everyone's in the same boat: half-pissed, looking at close-ups on giant screens of the dartboard. (It's far too small for anyone to see what's happening on it.) Barry Hearn, chairman of the Professional Darts Corp., says, "It's the only sport in the world that's not visible to the naked eye! You have no idea what's going on! You tip a beer in your ear while watching the screen. It's a great life!" The PDC claims that at darts' World Championship, fans average almost five 20-ounce pints per person per day. The tournament lasts a little more than two weeks.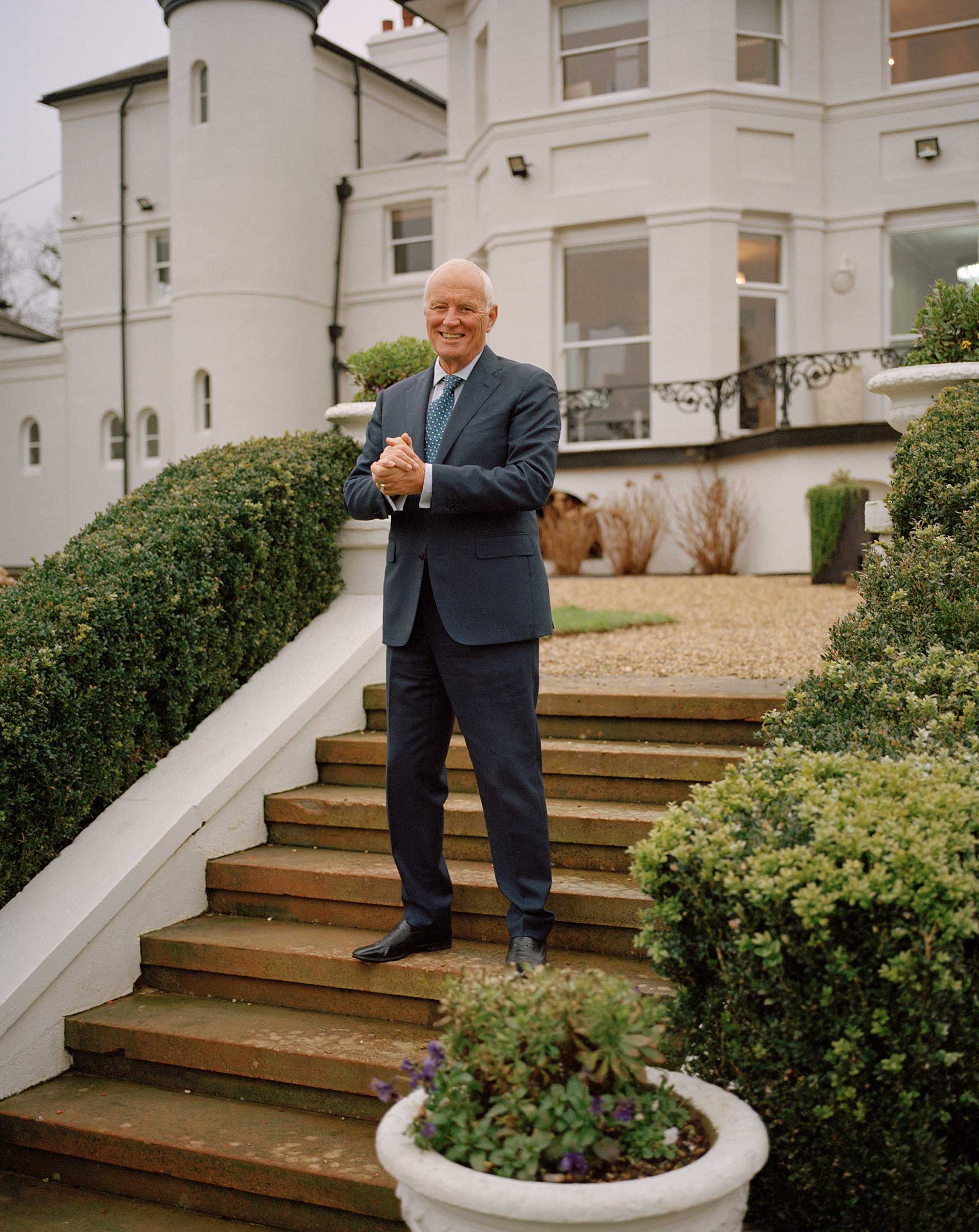 For all the drunken camaraderie, there's a touch of class warfare. At Motorpoint, the people in the nosebleeds chant, "Boring, boring tables!" at the folks in the higher-priced floor seats. The floor-seaters chant back, "We pay your benefits!" Eventually, everyone chants in unison, "If you love the darts, stand up!" Short of growing up with the sport, you'll never not find it bizarre. But in person, even for an outsider, it's immediately compelling. You know that thrilling tension that pops when you're in a basement and your buddy Ricky shouts, "I'm gonna flip this bottle cap onto the head of the tiger statue your mom got from Laos," and everyone stops what they're doing to see if Ricky can actually do it? That feeling, pumped up, is darts.
The competition at Motorpoint was the domain of the sport's dozen or so elite Premier League players; the top dog was a scary, bald Dutchman, Michael van Gerwen, an absolute bulldozer on the board, who won just under £1.3 million ($1.7 million) during the 2019 season. He's currently ranked No. 2 in the world. But on this night the PDC had granted a special "challenger" spot to Fallon Sherrock. No challenger had ever won a game in "Prem" competition, but the chance to see her try had led to a sellout of the 10,000-seat arena. "The place was rammed," Hearn says.
Sherrock got the invitation based on her performance at the World Championship a month prior at Ally Pally (actual name: Alexandra Palace) in London. Her opponent was Ted Evetts, a highly touted young player. Before every dart she threw in training, at her home in sleepy Milton Keynes, Sherrock, now 26, willed herself into in-match tension: "I was thinking, mentally, 'This is to put pressure on Ted. This is to take a leg against Ted. This is to win.' " In sensible glasses and a pink shirt, in front of 3,000 costumed and joyfully beery fans, she actualized the vision and became the first woman to beat a man on the sport's grandest stage.
"One minute I'm your average person playing darts," she says. "No one knows about me, really, and I'm a massive underdog to everyone else. And then the next moment"—boom. Fawning coverage poured in, from the shouty tabloids to Good Morning Britain to Sarah Jessica Parker's Instagram. In the next round, facing Mensur Suljovic, then ranked 11th, Sherrock won again.
Players start with 501 points and race to zero, three darts at a time. Each score you hit is subtracted from your total. To finish, you have to hit your exact remaining score; naturally it's the trickiest bit of the game. Against Suljovic, Sherrock needed 50 points to win. Cinematically enough, that meant the inner ring of the bull's-eye. She smashed a dart in the very center of the board, pumped her fists lightly, and briefly cupped a hand over her mouth. Her two victories had won her £25,000.
She lost the next match, which eliminated her from the tournament. But by that point she was already being called Queen of the Palace. Quickly, the PDC and Sherrock scrambled into an impromptu mutual-exploitation situation. She happily signed up for showcase events, and the PDC happily watched its ticket sales for the events spike.
At Motorpoint, little clusters of friends, men and women, wore pink shirts and eyeglasses and blond wigs to pay homage to their new icon. They sang a variation on an old holiday staple: "Walking along, singing a song, walking in a Sherrock wonderland!"
By the time Sherrock arrived on stage, to Katy Perry's 2010 banger Last Friday Night (T.G.I.F.), the crowd was primed. When it was her turn: squeals of delight. When her competitor, Glen Durrant, was up: boos that, on misses, turned to screams of euphoria. It was a strange sound, kind of a "booooooooaaaaaaaaah!!!" I heard "Go on, Fallon!" I heard "F— off, Durrant!"
Durrant and Sherrock tied, and she won £3,500. When she clinched the draw, there was an explosion of sound. At the press conference afterward, Durrant noted, "I've never heard a noise like this in darts." Sherrock, beaming with an easy charm and crystal-clear star power, said, "I feel like I just play my best games on these big stages. I get all the adrenaline, and I thrive in it. I just love every minute of it."
In normal times the PDC sold more than half a million tickets a year and handed out over £14 million in prize money. According to a 2019 financial statement, the organization took in £37 million in total sales. Phil "The Power" Taylor, the greatest darts player of all time, made more than £7 million in his career, not counting his sponsorship work for a leading ladder manufacturer. The PDC's TV ratings reliably peak during the World Championship. In recent holiday seasons, darts on Sky Sports in the U.K. has regularly come in second only to soccer. Hearn says, "It slaughters golf, tennis, cricket. Slaughters 'em."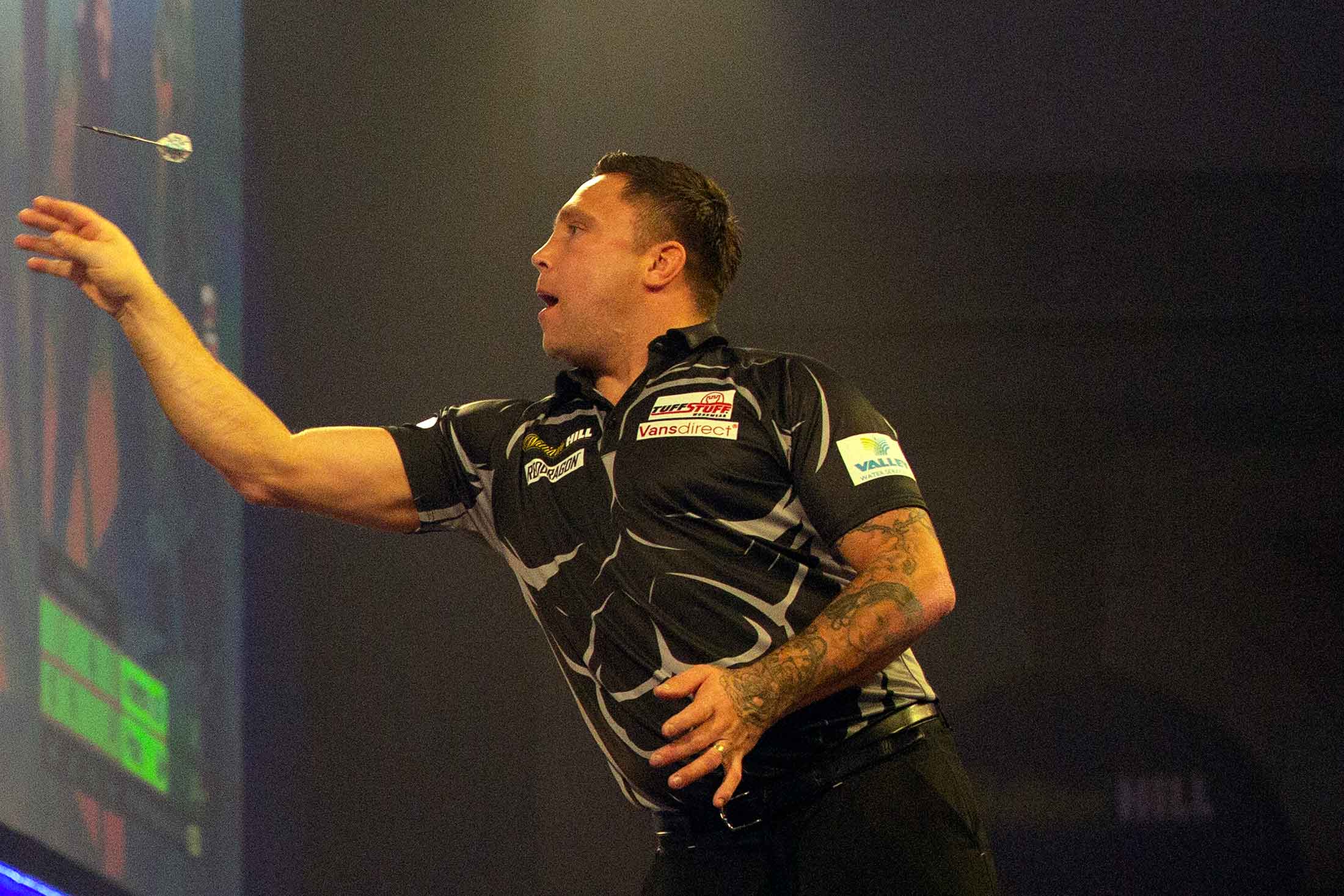 Darts has been a televised sport since the 1970s. One might have assumed it had maxed out its business potential. But its promoters keep pushing beyond traditional bases of support in the U.K., Germany, Scandinavia, and Australia. They're looking at growing markets in Brazil, China, India, Japan, and the U.S., where the DAZN network streams 60 darts nights a year. In the U.S. the biggest obstacle for darts is the glut of existing televised sports. But like niche entities such as poker and esports, darts carries itself as an eternal expansionist. "Darts stands on a precipice," the Guardian wrote a few years back, "contemplating the perils and the profits of its own new world."
That was before Sherrock became an international name. A question since then has been what effect her success will have on the sport. Despite fan enthusiasm for her, the PDC hasn't seemed inclined to nurture her talents. "We run a gender-neutral sport," says Hearn. "There's no real difference between a man and a woman playing darts." And weeks after her performance at Nottingham, Covid-19 shut down world sports. In an instant the PDC was no longer thinking about capitalizing on momentum or new frontiers. It was thinking about simply hanging on.
The day after Nottingham, I met Hearn in London at the gaudy bar in the Waldorf Hilton; he was in a pinstripe suit and grinning. He was raised in East London in the 1950s by a mother who cleaned houses and a father who drove buses. Despite decades of gilded success in sports such as boxing and lawn bowling with his company, Matchroom Sport Ltd., he still plays the working-class yobbo. "I never got that chip off my shoulder," he says. "I never really liked people with posh accents. But that's OK. Therapy's helping." He's rich, and he's management, but it behooves him to act the schmuck trying to make a few bucks.
The businessman-showman hybrid is a familiar role, one that's made World Wrestling Entertainment Inc.'s Vince McMahon and Ultimate Fighting Championship's Dana White rich and famous. Hearn is well aware of the limitations of his sports, which is why he's good at blowing them up. He knows the game of darts isn't gripping to the casual fan, so he built a strange little bacchanal around it.
In 2014 the Scottish Football Association invited Hearn to give a motivational speech. He took the opportunity to berate leaders for the organization's financial failures. "Even if you're useless, I want to see you acting like you're good," he said, according to the BBC. "I can sell live fishing. Live fishing! I'm good, and you're not good enough. What's gone wrong here in Scotland?" Everything from Hearn's personal branding to the atmosphere inside the arenas to the way darts is broadcast on TV is part of one big, chunky sales job. It doesn't have to be subtle or smooth to work.
Hearn got into darts only in the early 1990s, a time when the World Championship was held in a smoke-filled pub called the Circus Tavern in Essex County, just east of London. The PDC, which was started in 1992, first brought Hearn in to negotiate TV deals; in 2001, it made him chairman. In inventing the lager-fueled gimmickry that defines darts today, he relegated an older, more traditional league—the British Darts Organisation—to also-ran status. "I have no trouble with the BDO," he says. "I'm sad for them that they're so useless with anything remotely to do with commercial exploitation."
The positive appraisal of "exploitation" is key to Hearn's success. In 2019, Matchroom put on a sequel to a much-maligned 2018 boxing match between YouTube personalities KSI and Logan Paul. This was a contest between nonathletes; according to Matchroom, more than 1.2 million people purchased the fight on pay-per-view. (After a draw in the first match, KSI won the second in a split decision.) "Being good is absolutely fundamental in sport," Hearn says, "but being famous is where you make your money."
Which brings up Sherrock. "I'd seen Fallon Sherrock's name on a few amateur events," he says. "But she'd never won any money. And all of a sudden she's in this ridiculous cauldron." Then she beat Evetts, and the "f—ing world went mad," he says. "And I told my people, 'F—ing put her in the World Series.' " (Many darts competitions have similar-sounding names. The World Series, which was supposed to be held last year in New York, is separate from the World Championship. The PDC selects who gets in, though the players are usually the highest ranked.)
Of Sherrock, Hearn says, "To be cruel, she's a novelty at the moment, you know? Now you've got to follow that up with performances. Looking at her career realistically, I say, 'You've got nine months.' In that nine months, maybe she can get to half a million pounds. Worst case. The best case is, f—, you're real. So get yourself a carer for your child, and go do eight-hours-a-day practice like the men do."
Sherrock has a 6-year-old autistic son, whom she raises alone. In 2019 she told the Sun: "Looking after Rory is a full-time job in itself. I get my family to help when I'm playing darts, and when he's in bed is the only time I get to practice." Also: "He loves the fact that I play darts. He's really proud of me."
The PDC has never actively cultivated the women's game. Sherrock landed at the World Championship by winning a women's-only qualifier. Deta Hedman, one of the greatest female players of all time, says Sherrock's success will not change much at all. "Barry might give one or two more opportunities [to women]," she says, "but not too many more."
Matthew Porter, chief executive officer of the PDC since 2008, has always been patient about the growth of darts, maybe because it's always exceeded expectations. "There's no such thing as a darts fan," he says. "It's not like you follow your team because you're from that town. We've had to grow the concept of a darts fan. Now, most people who attend professional darts events in Europe—they don't play darts."
The PDC seems to be taking the same measured approach with growth opportunities that Sherrock's success provided. "We know there are barriers to entry," says Porter. "It's hugely male-skewed, and that's probably because of its background as a bar sport." Hearn says, "If you try to look into a crystal ball and say, 'Where are we all going to be in 10 years' time?' Well, hopefully, going to the darts to watch men and women on a level platform. How exciting would that be?"
"You're working to make sure that happens?" I ask.
"Well—we're not," he says, smiling. "This is the secret. We're going to maintain opportunities. We'll give spots on key events. But we don't wanna be patronizing, or put 'em in because they're beautiful or because it's fashionable."
Late last month, Hearn said the PDC is planning to add Sherrock to some major international events once the pandemic "subsides." He added, "Covid could not have come at a worse time for Fallon Sherrock and her emerging career. It has been a big, backward step in terms of changing her life, with a hard pathway ahead."
The PDC has gone about 10 months selling almost no tickets, and it's expecting to go two more, says a spokesperson. Hearn says 2020's gate proceeds are down £7 million but says the PDC has managed to suffer only a 25% profit loss during the pandemic and hasn't lost any sponsorships. "A profit is still a profit in these troubled times," he says. "As ever, my glass is half full."
The lockdown has created opportunities, too. Last April, the PDC returned with the Home Tour, in which players competed from their houses by broadcasting their play. Viewers could watch live on DAZN or the Sky Sports app. Technically, darts was the first sport in the world to come back from its coronavirus-mandated shuttering. The Home Tour was a stopgap measure, with players doubling as their own production staff and reporting their scores. One match was called off because of poor Wi-Fi. But in the shambling spirit of the sport, the tour kind of worked.
A few months later, as PDC competitor BDO headed to liquidation, the PDC brought back in-person darts, just without fans. Sherrock used lockdown to amass a TikTok following and compete in a parallel livestreamed darts tournament, put on by the agency that represents her, where she continued to beat men. But she didn't have live opportunities to recapture the magic of last winter's run, and she failed to nab one of the two women's qualifier spots for the 2021 World Championship. Other women filled the void: One of the most exciting moments of the runup came when Mikuru "The Miracle" Suzuki almost beat Gerwyn "The Ice Man" Price, the world's No. 1, at the Grand Slam of Darts in November in Coventry.
At the end of December, despite the pandemic, the World Championship was back on at Ally Pally. The players and PDC staff were in a modified bubble, allowed to move only from their nearby hotel to the venue. The first night, 500 spectators were let in. On the second night, with a variant of the virus fueling a surge in Covid cases, new restrictions went into effect. The tournament continued. Media were allowed in, but fans were not.
On Jan. 3, after weeks of competition, the World Championship was whittled down to two players: Price and Gary "The Flying Scotsman" Anderson went head-to-head for £500,000 in prize money. I attended the final. Stripped of all pageantry, the action was even more surreal. Within the blue-carpeted, faux-regal Ally Pally, it suggested the strange solemnity of the ceremonial rites of a well-to-do cult. Some showmanship would have been nice. Perhaps the half a mil could have been here, in cash, spilling out of suitcases?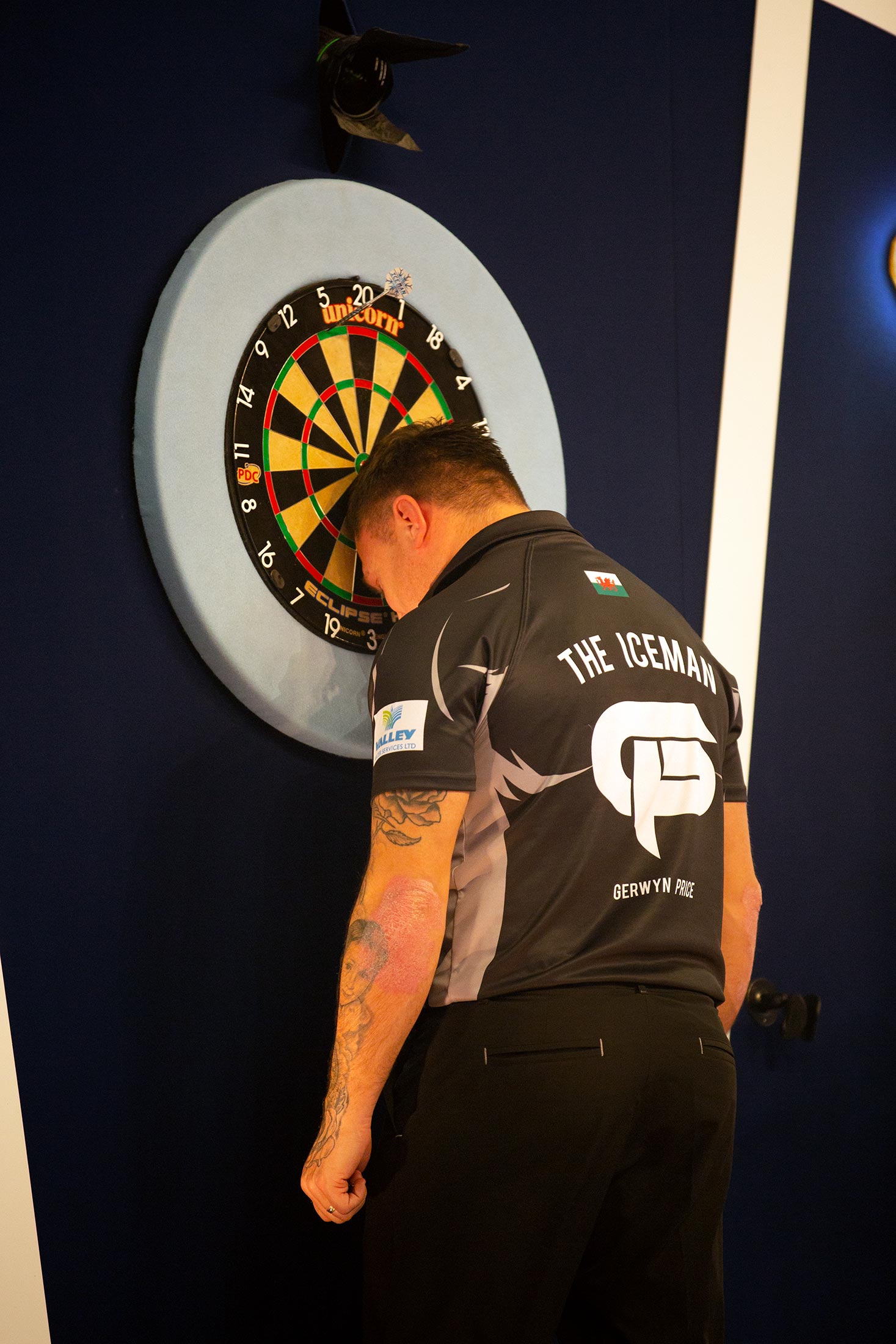 It helped that Price's performance was insane. His every muscle was clenched; every success was greeted with a scream. I have "daaaah!" and "waaahh woooah!" and "plaaaaaaaahhhheee" written in my notes. Price has the vibe of a video game villain—specifically, Wario—while Anderson's is more of a lapsed punk rocker turned kindly accountant.
Price was dominant and went up big. And then, as he got closer to clinching, he kept blowing chances. I was still just watching two men throwing darts in a cavernous mansion in creepy silence. But it was riveting. Price was so close to glory and clearly rattled by the specter of success.
He fluttered his lips and turned away from the board, seeking clarity. Another chance came. All he needed was 10 points. Bang, there it was. The money, the glory, was his. The PDC had done it, too. With a pandemic peaking, it completed its signature event. "Boooooah!" the Ice Man screamed in glee. "Boooah!"