Everton to appoint Dyche, Newcastle agree Gordon deal: weekend countdown – as it happened | FA Cup
Key events
And that just about concludes the blog for today, as we await the ginger smoke from Goodison to announce that Sean Dyche has growled into his new job. Manchester City v Arsenal later, too. Thanks for reading.
Manchester United have loaned 19-year-old midfielder Charlie Savage, son of former Wales international Robbie, to League One side Forest Green for the rest of the season. In Gloucestershire, he will enjoy the vegan food and the management of Duncan "The earth is warming up" Ferguson. Good luck to young Savage who looks a chip off the old block.
Euros summer and Copa summer makes for bonus soccer on either side of the Atlantic.
The six guests for the 2024 Copa América will secure their spots according to their performances in the next Concacaf Nations League.

The tournament will be played during the Northern Hemisphere summer, Conmebol said in a statement.

The agreement also includes placing four of Conmebol women's teams in a Concacaf tournament, plus the creation of a new club competition.
Paul Ince's Reading versus Manchester United offers David Hytner a trip down memory lane.
Talk to anybody who knows Ince and one word recurs – relentless. Ince was the boy from Dagenham who had very little, no stability at home, who had to fight for everything and would do so literally with the street gang that he was drawn into as a teenager. When it was game time at United, it was as if he flicked a switch. The power would surge and continue surging.
Dyche in at Everton, as Gordon heads to Newcastle
Dyche has been out of work since being sacked by Burnley in April and, unlike Bielsa, made it clear during talks with the director of football, Kevin Thelwell, that he would relish the opportunity to relaunch his Premier League managerial career at Everton.

He will take over a team that have lost 11 of their past 14 matches in all competitions and lie joint-bottom of the Premier League.

Anthony Gordon is preparing to head out of Everton after Newcastle agreed to buy him in a deal worth up to £40m. The 21-year-old missed three days of training this week as negotiations were held and has wanted the move.

His transfer, which is subject to a medical, would release funds for Everton to spend before Tuesday's deadline. They have not made a signing the month.
Michail Antonio will be going nowhere, says David Moyes. The West Ham striker had been linked with Wolves, among others, and had talked about in on his own podcast but now Danny Ings is crocked, no deal will be happening.
[Ings[/] had an injection in his knee and we hope to have him back quite quickly. We felt we could add to what we've got. Micky is someone who has been talking about his future, rather than the club,

We have no intention of doing anything. We want Mick here, playing well, scoring goals and we'll be happy to have him.
FD this Friday mentions the Haçienda, Kolo Touré's dismissal .and Keith Houchen
Illness could see Harry Kane miss out on the chance to become Tottenham's all-time leading scorer in at Preston. Tottenham assistant Cristian Stellini was doing the talking today. Seems like Richarlison will get his chance.
We have only one problem, with Harry, because he played the last game full of illness. He didn't train during the week, he trained this morning, but he wants to come with us and be available.

We know very well that Harry wants to play every game, so we are happy that Harry is involved in the game, but the only situation we have to take care of is this.
Right, that's yer lot from me. I'm off to worry about the impending HMRC self-assessment deadline (don't forget!) but, luckily for you, John Brewin is about to return to the live blog hot seat.
Speaking of Union, they meet rivals Hertha in the Berlin derby on Saturday afternoon. Here's Jonathan Liew's take on the game and the two clubs' contrasting fortunes in recent years.
Union Berlin have won the race to sign Aïssa Laïdouni from Ferencvaros, with the combative midfielder widely tipped for a move to one of Europe's "big five" leagues after his eye-catching performances with Tunisia at the World Cup. "It is the dream of every professional footballer to play in one of the best leagues in the world, so I'm very happy to be able to prove myself in the Bundesliga," said Laïdouni. "From everything I have seen and heard so far, Union are a friendly but also passionate and ambitious club. I'm convinced I'll fit in well here and will give everything to be successful with Union."
Having started the 3-0 victory over Nottingham Forest in the Carabao Cup in midweek, it looks like Aaron Wan-Bissaka and Tyrell Malacia will be United's full-back pairing once again this weekend. "[Diogo] Dalot is definitely out, and I think also [Luke] Shaw [is] a question mark," said Ten Hag. "We have to see after this training session, after this day, if [Shaw] is available or not.
"I think Aaron and Ty are playing magnificent at the moment. On Wednesday, they were really brilliant. The whole back four was brilliant on Wednesday. We are happy in the back four, we have depth in the squad. That's what we need when you have to cover 10 games in 30 days and, hopefully, it will continue after that as well."
Sancho could return against Reading
Asked to give an update on the state of his squad before the visit of Reading in the FA Cup, Erik ten Hag has delivered some good news. Jadon Sancho, who has not made an appearance for Manchester United since October, is in contention to feature. "We always have issues, but I think tomorrow we have a strong selection for this game," said the Dutchman. "We have a good squad, we have depth in the squad, so we can cover things.
"[Sancho] is training with the team and we will see. He is improving, he is making steps. We will make the decision after the training. He's on the way back, he's making steps, so he's back in team training and now we have to see when he is ready to go back into the games."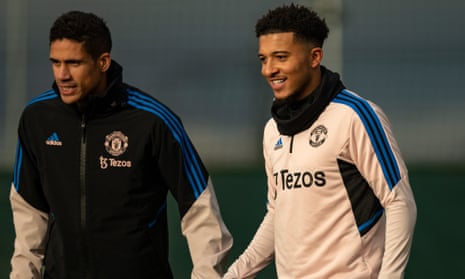 Given that they beat Liverpool 3-0 earlier this month, it wouldn't be that much of an upset if Brighton were to dump their fourth-round opponents out of the FA Cup this weekend. It wouldn't be the first time, either. Here's Steven Pye with memories of an eighties classic.
In other transfer news, Bolton Wanderers have signed the mighty Cameron Jerome on a free. Ian Evatt, the Bolton manager, is delighted to have the 36-year-old striker at his disposal. "Number one, he is still fit for purpose and able to do the job," said Evatt. "And number two, the additional piece he brings is he can really help the players in terms of knowledge, experience and knowhow. He's played at the top level, in Europe, and played 50-odd times in the Championship in the last two years. People shouldn't be misguided by his age. His physical data is still unbelievable and he's in incredible shape."
Looking for some pre-match reading ahead of Arsenal's trip to the Etihad this evening? Here's Jacob Steinberg on the league leaders' canny strategy of signing City's surplus players who, as it turns out, are also really, really good.
Here's more from De Zerbi on Caicedo. "He's relaxed. I spoke to him like a father, not a coach. I understand when a player has a possibility to change team and go to a big team [it is hard to resist]. My work is to give the style of play, but also advice on his career and life. I have to repeat: the problem is never selling, but who you want to buy. You can improve if a big player leaves, [but] we have to know our level. Together we want to improve. Interest in our players is good for us."
Jeremy Boyce, "lifelong NastyLeeds fan", writes in. He's mighty relieved that Marcelo Bielsa has opted against taking the Everton job. "I am frankly surprised nobody else has made a pitch for his services so far. He's a genius, but he's also extremely pragmatic, needs to feel the support and love. All he needs right now is a club where he can be sure he'll be welcomed and revered, respected by the board and loved by the fans, a club with passion, history, and a future. One where he'll be allowed to do the football things his way, confident that everyone believes and is heading purposefully in the same direction. Any thoughts on where that 'return to action' might happen? I have an idea of my own …"
De Zerbi addresses Caicedo transfer interest
Ahead of Brighton's FA Cup clash with Liverpool on Sunday, Roberto De Zerbi has been asked the burning question. Will Moisés Caicedo still be a Brighton player come the end of the month? "I think he is a good guy, he is only focused on Brighton," he said. "I hope he can stay with us until the end of the season. My opinion is that is the best solution for him and us.
"I can understand big clubs want our young players – like [Alexis] Mac Allister, [Kaoru] Mitoma, Caicedo, Solly March – but the decision is only between the player and club. I spoke to [Caicedo] on Wednesday and told him my opinion, it is difficult to change teams in the season. You can find more problems. It is important for him to stay another four months with us."
Here we go, it's the Everton news we've all been waiting for. Tyler Onyango has joined Forest Green Rovers on loan. Ah, come on, don't be like that, it can't be clickbait if you didn't click on it. While the move should provide Onyango with further first-team experience, it also gives him a chance to reunite with Duncan Ferguson, who took over as Forest Green head coach earlier this week, and help the Everton great to keep his new side in League One.
Tony Mowbray, the Sunderland manager, is pleased as punch with Gelhardt's arrival. "It is no secret that Joe had plenty of options on the table this month, so it is a testament to the club and its staff that he felt Sunderland was the best move for him," he said. "He has made an impact at Premier League level throughout the past 18 months and he is a really exciting signing, who fits our playing style and will complement a forward line that is already packed with talent. I'm sure the fans can't wait to see him in action and we are looking forward to supporting his development."
Sunderland sign Gelhardt on loan from Leeds
We've got an actual, real-life, confirmed bit of transfer business to report. Sunderland have signed Joe Gelhardt on loan from Leeds until the end of the season. "I know how big the club is and I'm really looking forward to meeting the lads and trying to help," said the 20-year-old, who has made 15 appearances in the Premier League this term. "I spoke with the head coach and the playing style seemed a perfect fit for me. I've watched Sunderland on the TV this season and seen some positive, attacking football and I can't wait to get involved."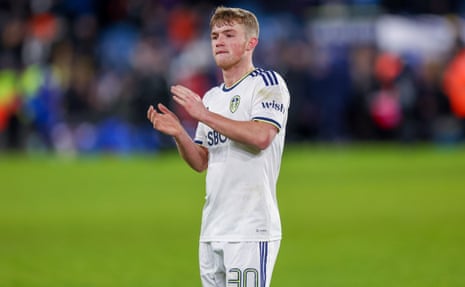 Kari Tulinius writes in via email. "Hello Will. Earlier today L'Équipe reported that Keylor Navas had agreed terms with Nottingham Forest. He is an amazing keeper, with a ludicrous trophy cabinet, and if this is true, it should give Forest an even better chance of staying up. Have you heard anything more? If this comes off, this'll be the first time this window I've been genuinely surprised by a transfer."
Let me defer to the expert on these matters, Fabrizio Romano. It looks like a loan could be in the offing, but it isn't a done deal just yet. Christophe Galtier, the Paris Saint-Germain head coach, was asked about Navas's future ahead of the French league leaders' game against Reims this weekend and had this to say: "Keylor is a great competitor, he has been exemplary in his work since the start of the season. He was appointed goalkeeper for the Coupe de France. There is also what he feels, and the club hierarchy is listening. We will see the day after the transfer window the reality of the squad but, because of the man and because of his career, we must respect him and we must listen to him."
Beattie retires from international football
Jen Beattie, the Arsenal and Scotland defender, has called time on her international career aged 31. Having made her senior debut for Scotland aged 16 in 2008, she has racked up 144 caps and scored 24 goals over the last 15 years.
"Representing Scotland has been an absolute honour and a dream come true," she said. "Thank you so much to every single staff member and player that has made my experiences so memorable and enjoyable. I've made friends for life. I've been a part of the national team for almost half of my life and it's been incredible to contribute to the growth of the game. I look forward to supporting Scotland from the stands and I wish Pedro [Martínez Losa] and the team all the best for the future."
Van der Sar explains Schreuder sacking
Seasoned Eredivisie watchers will have noticed that Ajax are in a bit of a pickle at the moment. After their latest draw against Volendam, they are on a seven-match winless streak in the league. Six of those matches ended with the points shared, mind, but it's still a pretty abysmal run for the reigning champions, who are now fifth in the table. Unsurprisingly, it has cost their head coach, Alfred Schreuder, his job.
Edwin van der Sar, the club's chief executive, has been sent out to explain the decision, with Schreuder only succeeding Erik ten Hag last summer. "This is a painful decision, but it's necessary," he said. "Regardless of the good start to the season, we lost a lot of unnecessary points. The football itself was precarious too. Due to the World Cup, we had an early and long break during the winter. We gave Alfred our time and trust to change the way things were going. It became clear to us that he could not change the tide. Regardless of the many transfers that took place, we consider the squad fit for a championship. We lost a lot of points over the last few weeks and sadly saw a lack of progression."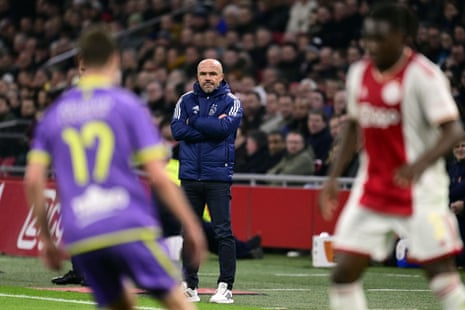 Well, well, well, look what the cat dragged in. Me, and boy do these claw marks sting! Let's start with the news that the EFL has asked the Premier League to halve the financial gap with the Championship. "Doing so would make clubs financially sustainable in a thriving and competitive pyramid," argues Rick Parry, the EFL chairman. "English football now has the opportunity to make the changes required to fix the imbalance – the money is in the game, but a redistribution solution is not."
Right, for much of the afternoon, Will Magee is in the chair.
Jadon Sancho to return for Manchester United this weekend? It looks likely. Erik ten Hag says Jadon Sancho could make his first appearance in 14 weeks when Manchester United host Reading in the FA Cup this weekend. Sancho last played in October's 1-1 draw at Chelsea.
He is training with the team and we will see. So, he's improving, he's making steps and we will make the decision after the training. I said he's on the way back, he's making steps. He's back in team training and now we have to see when he's ready to go back into the games.
This was the story last month.
Cardiff appoint Lamouchi as new manager
Cardiff have appointed Sabri Lamouchi as their new manager. The former France international and Nottingham Forest boss has signed a deal at the Cardiff City Stadium to replace Mark Hudson after his sacking earlier this month. Dean Whitehead, Tom Ramasut and Graham Stack will be part of the coaching team, with Sol Bamba coming back in, having worked with Lamouchi with the Ivory Coast national team.
The word from Merseyside on Bielsa is that he wanted to come in and work with the club's Under-21 team for the rest of the season until taking over the seniors next season. Until that, an interim boss would come in. Has anyone told Sean Dyche this?
Per Andy Hunter:
Bielsa informed Everton he would join now but would work behind the scenes until the end of the season, coaching the under-21s and younger players as the club adapted to his methods. That would have left Everton needing an interim manager for the precarious task of keeping them in the Premier League and was not a situation the club was willing to accept.
Arsenal make move for Brighton's Caicedo
Big move, big player, and someone everyone wants. Will he take the Trossard route? A bid of £60m is low.
Chelsea had a £55m verbal proposal for the midfielder rejected this month and Brighton hope to keep the 21-year-old but Arsenal are pushing for a deal and negotiations are a key juncture.
Shock news, as Chelsea want to sign someone, anyone. Young Magee brings you the latest.
Jamie Jackson is up for the Cup, and Preston take on Tottenham in a historic tie in Saturday's Dad's Army slot. Great pic, too. Not sure about the goalie's positioning.
Transfer news from Wolves, who have landed their man after a tug of war, according to PA Media.
Wolves have agreed to sign Joao Gomes from Flamengo for £15million. The midfielder is due to travel to England next week for a medical, the PA news agency understands.

It marks the end of Wolves' chase after they pushed hard, with Flamengo keen for Gomes to join Lyon. The Brazilian club have now agreed to let the 21-year-old move to Molineux with the Premier League his preferred destination.

Gomes would become Julen Lopetegui's sixth January signing after Mario Lemina, Pablo Sarabia, Matheus Cunha, Craig Dawson and Dan Bentley.
Some bonus Liverpool transfer news, per PA Media.
Liverpool manager Jurgen Klopp has not ruled out defender Nat Phillips leaving before the end of the transfer window.

The 25-year-old is fifth-choice centre-back and has made just five appearances this season and the recall of youngster Rhys Williams this week from a loan spell at Blackpool could pave the way for his departure.

"Depends if there are offers," said Klopp when asked if Phillips could leave. "We have to be prepared for pretty much everything, the 31st is deadline day and we will see."
Jürgen Klopp has been speaking ahead of his Liverpool team's return to Brighton. It didn't go well last time, and apologies for linking to my own article, very poor form.
Still the worst game I have ever seen of a team of mine, that's still the same thank god as we have played a few games since then… We did really well in moments and spells of the games. The first half against Chelsea we were very disciplined and we didn't give them a lot. We have to do that again against Brighton, of course.

We have six or seven midfielders in top shape which is the perfect situation but only three can start. You can't make mistakes with line-ups. Against Brighton it is massively important how we defend the first line. The goalie is really calm, they just pass the ball if the front three aren't performing well. It is really about how we defend.
Important column from the Wycombe midfielder, David Wheeler, here.
I'm not saying gambling is bad, nor do I want to stop people from having a bet, but it says all you need to know about how a sport and a country treat a public health issue that we name our national league after a gambling company. The EFL deal with Sky Bet ends next season and after Sky Betting and Gaming sent self-excluded gamblers free spins and exploited fans through sign-up offers, I would urge the league to look elsewhere for its next sponsor.

It's clearly not the responsibility of footballers to set policy – this should sit squarely at the feet of the government, the regulator and governing bodies, all of whom have so far failed. The government has been reviewing gambling laws for about three years and it is its duty to protect young fans from harm. But players do have a responsibility to speak up when something is so obviously harming our supporters, the communities we represent and even our colleagues.
Jürgen Klopp seems surprised Sean Dyche is coming in at Everton.
The pair have some history together.
Though Dyche also has some history with the Everton players. Awkward.
The big news of the week is, of course, the Guardian's Top 100 men's footballers, and here's the special projects boss man, Marcus Christenson, on how we arrived at the idea Lionel Messi might just actually be the best around.
It is worth noting that although we have a 35-year-old winner and the same winner as 10 years ago, there is an abundance of young, talented players coming through.

It is clear to see that Mbappé is a likely future winner but there are younger players than the 24-year-old on the list who are upwardly mobile. Erling Haaland and Vinícius are 22 and in the top 10, while Jude Bellingham, Phil Foden, Jamal Musiala, Bukayo Saka, Pedri, Gavi and Tchouaméni are set to improve their positions.
These two just bloody love each other. It wasn't long ago that Mikel Arteta was Jason Tindall to Pep Guardiola's Eddie Howe, and supplying the aggro on the sidelines.
Brighton v Liverpool looks a key tie in this weekend's FA Cup.
Jürgen Klopp was adamant that progress was being made following Liverpool's drab goalless draw at home to Chelsea, but a truer test awaits the holders on their return to the Amex Stadium. Brighton ripped through Liverpool in the Premier League a fortnight ago, when Klopp described his team's 3-0 defeat as one of the worst displays of his managerial career. Fabinho, Jordan Henderson, Joël Matip and Alex Oxlade-Chamberlain were all withdrawn in a quadruple substitution midway through the second half against Roberto De Zerbi's polished side. None have started in the two matches since. Eighteen-year-old Stefan Bajcetic has seized his chance in central midfield, injecting an energy and bite that was previously lacking, while Ibrahima Konaté and Joe Gomez have benefited from the improvement in front of them. Both managers should go strong with no midweek fixtures to concern them. Klopp must hope De Zerbi finds Liverpool unrecognisable. Andy Hunter
Here's some meat on the bones from Andy Hunter.
Sean Dyche is set to be named Everton's manager after Marcelo Bielsa told the club he would only take over in the summer.

Bielsa was the first choice of Everton's owner, Farhad Moshiri, and flew to London on Thursday to hold further talks with club officials. That raised their hopes of enticing the Argentinian to Goodison Park, despite his reservations over the state of the club and the squad and his record of never taking over a European club mid-season.

The 67-year-old remained unconvinced about going to Everton at this stage, however, and negotiations are understood to be over. That has cleared the way for Dyche and the former Burnley manager could be appointed on Friday on a two-and-a-half-year contract.
The FA Cup fourth round is here, starting with a blockbuster tonight between Manchester City and Arsenal, though first, the big news comes from Goodison Park, where Sean Dyche is set to be announced as the new manager of Everton. It seems Marcelo Bielsa will not be coming, after all, and instead the Ginger Ancelotti, or whatever banterous name we can call the former Burnley boss, takes the reins. With Dwight McNeil and James Tarkowski in the ranks, there's a couple of players to get the lookeylikey game in the dressing room. And woe betide anyone who wants to sit out the curry night. Sean Dyche is back. But what does that mean for Everton?